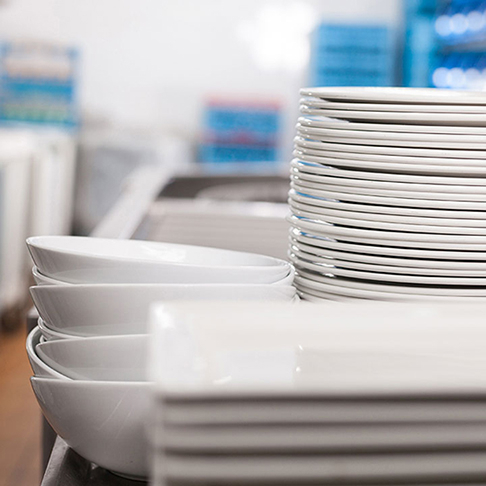 Efficiencies in the commercial kitchen. 5 reasons to opt for the Classeq Pass Through.
Winter 2022 is set to be a busy one. Despite inflation and, it's clear the public are rekindling their love of dining out. And after two years cooped up inside, who can blame them?

But are venues ready to handle the expected increase in footfall? This November sees the first winter World Cup too, so venues should expect to be busy, and will no doubt be on the lookout for ways to increase footfall.

There are many ways you can help ease the burden of that additional workload, and the Classeq P500 is just one of them. Here are 5 reasons to consider one of our most mutli-functional, robust products yet:

Maximum efficiency

The P500 is simple yet robust. As it is engineered to meet the demands of busy kitchens, the P500 is a great option for busy periods and areas of a high footfall. The Pass Through is a great recommendation for venues since it's capable of washing up to 720 plates an hour and will tangibly impact their efficiency.

As an approximation, the P500 washing volumes of 360 main plates per hour are considered everyday use, 540 main plates an hour intermediate use, and 720 main plates per hour intensive use.

Busy periods with high footfall will no longer be such a worry for kitchen staff, as they're safe in the knowledge that clean, sparkling dishes, cutlery, and glasses will be at the ready.

Fits where you need it

Whatever the space or floorplan of kitchen area, the P500 can be configured to work in a corner or straight through operation. You can view the product specification document here.

If our standard tabling options don't meet requirements, we can produce bespoke tabling too – simply ask the question and we'll do what we can to accommodate. Just don't forget access: will the machine make it through the doors and up the stairs to reach the kitchen?

Site surveys

Our support team can help you with site surveys for most locations across the UK including England, Scotland, and Wales. A site survey will take away any uncertainties and allow you to determine the best specifications for the business needs, ensuring you know the power options for your current supply. That way, you'll get the best configuration and optimal support from our teams as your usage increases.

Made in Britain

As a UK-based provider, we can offer competitive prices and our most popular P500 models (and Undercounter Glasswashers and Dishwashers) are currently available for UK next day delivery*. When a replacement or repair is needed quickly, all our Pass Through and Under Counter machines are manufactured by us at our plant in Stafford. So, you can eradicate the likelihood of unpredictable supply chain issues.

To reduce the risk of supply chain issues, we recommend growing your UK supplier network. This decreases the likelihood of you having to put out fires, or grapple with long turnaround times!

Installation and operator training

Busy restaurants and catering venues will know that the less admin, the better. But there will be no need to search around for another professional to install, as Classeq provides installation services. Supported by a UK based sales and support team, we can carry out site surveys, offer installation and deliver operator training. There are real advantages to having a design and production team in the UK!

The Classeq Pass Through really does work to make life easier for everyone. Easy to clean, easy to use, and simple to install, the P500 solves many everyday hospitality challenges. Plus, with a UK based sales and support team, maintaining and using the P500 is simple, and allows your customers to focus on providing the best experience and service to their patrons.

Make 2023 the year you switch to the simple, and the robust Classeq P500.

At Classeq, we're passionate about the growth and success of the hospitality sector. That's why we're committed to providing you with information and content that explores every juncture of the hospitality journey from the distribution of catering equipment right through to your customers' experiences

If there's a topic you'd like us to explore further, let us know. Otherwise, take a look at our full content library here, or speak to a member of the team today . Whether it's a new machine you need, or technical support, our team is ready to assist you.

*Correct as of November 2022. Delivery to remote locations may take longer.