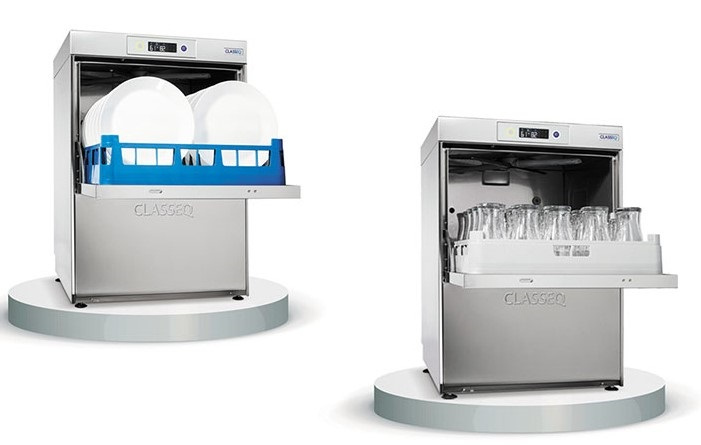 Glasswasher or a Dishwasher? What's the difference and which do I need?

Glasswasher … Dishwasher … You may be forgiven for thinking that these are one and the same! After all, they look the same on the outside but what is the difference between them? At home we have one machine that does it all and so why is it different in a commercial setting? Let's find out …

What's a glasswasher?

A glasswasher is specially designed for cleaning your glassware. The wash baskets inside are specifically designed to hold glassware as large as a pint-sized glass, including wine glasses, tumblers and any other smaller items. The positioning of the water jets are also aligned to those racks to ensure that your glasses are squeaky clean every time.

What's a commercial dishwasher?

A commercial dishwasher does exactly the same as a domestic dishwasher – hygienically cleaning your crockery, cutlery, pots and utensils but doing so much quicker than your domestic dishwasher – saving you time and money within a commercial setting. Unlike domestic dishwashers, the baskets are removed when loading and unloading the dishwasher for fast access making it quicker and easier.

Let's talk about temperature …

The rinse temperatures are lower in a glasswasher (to prevent damage or cracking), although they still hit the all-important 63 degrees ensuring your glasses are hygienically clean. Dishwashers wash at temperatures up to 82 degrees.

Wash results and maximising the lifespan of your glassware …

Your glassware is more delicate than your crockery and cutlery and will begin to corrode over time – because of this the wash process in glasswashers is gentler and shorter than those of a dishwasher. Glasswashers are especially designed to deliver great wash results while also protecting and maximising the life of your glasses.

A dishwasher, on the other hand, is suitable for all your crockery and cutlery as well as small pots and pans. To ensure your crockery and cutlery is hygienically clean, wash temperatures and wash power are higher and cycle lengths are longer than those of a glasswasher.

The bottom line – what's the difference between them?

In essence, the difference between a glasswasher and a commercial dishwasher comes down to temperature, length of wash cycle and chemicals which produces the best wash results and maximising the lifespan of your glassware.

Decision made or need more help?

If you would like further help on deciding whether you need a glasswasher or a dishwasher in your venue, please visit our product pages or contact us we'll get in touch to discuss your requirements.