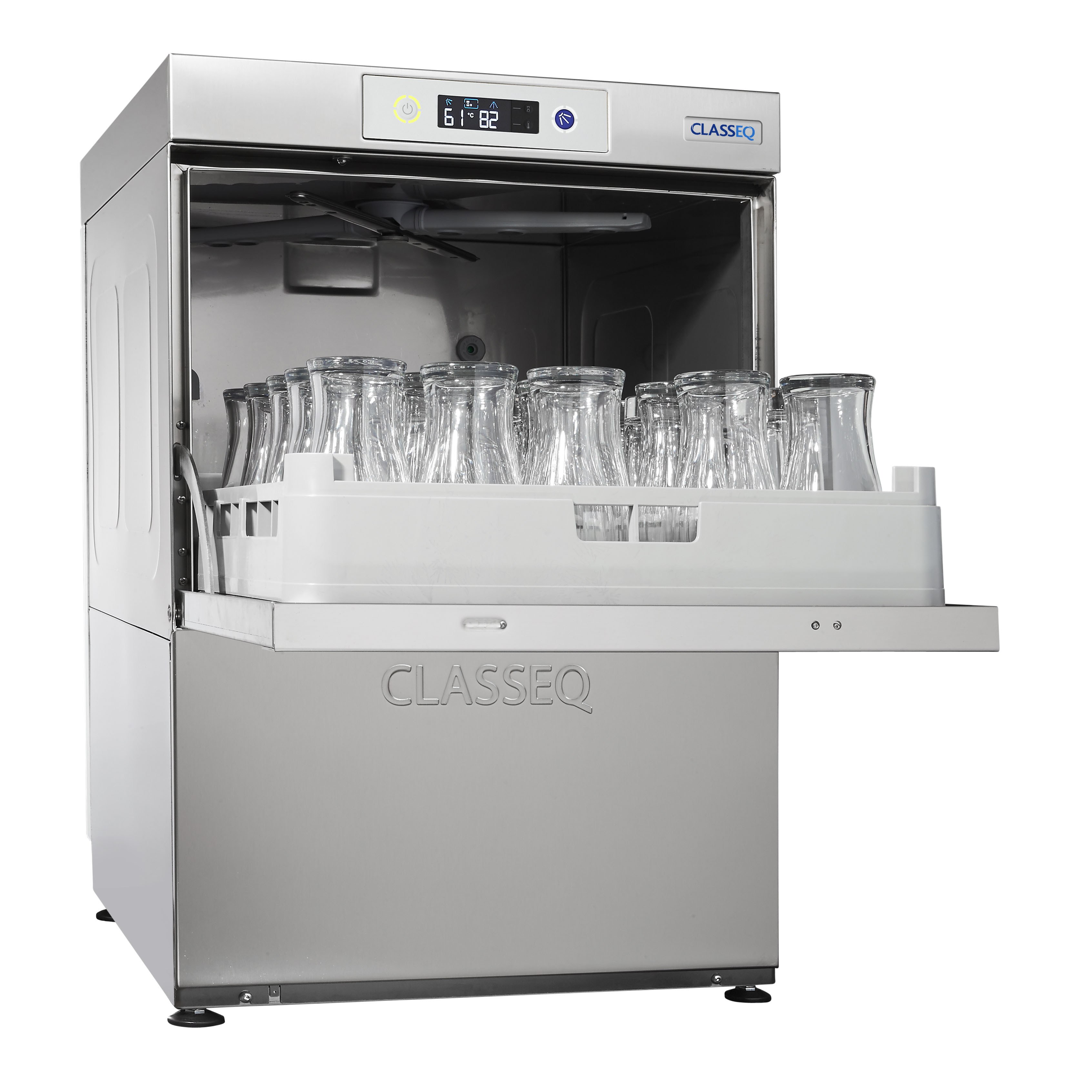 "Decisions, decisions!" Undercounter dishwasher or Pass-Through dishwasher?
If you are thinking of upgrading or designing a new kitchen, a key factor will be to determine which type of dishwasher will best meet the needs of your kitchen.
Will an undercounter machine get you through a busy service or should you consider a pass-through machine?

It's important to make the right decision for your business but what should you be considering? Here we set out some easy guidance and facts to bear in mind when deciding whether to go for an undercounter or pass-through dishwasher….

Volume and Capacity …

Everything starts with understanding how many items you need to wash and in what timeframe. Your dishwasher needs to deliver enough clean crockery and cutlery to get you through your busiest service.

Have a think about the following and write down some estimate numbers:

– Number of covers per peak service

– Number of items per cover (across all courses)

– Duration of peak service and total wash up time

From these initial estimates, the Classeq team or your local distributor can start to build an accurate picture of your volumes and begin the process of selecting the right machine for you. Visit our how to buy webpage, complete the form and we'll be in touch to discuss your requirements.

Undercounter dishwashers …

Undercounter dishwashers remain the most popular warewashers in the marketplace, they come in a variety of sizes and, as the name suggests, fit easily under kitchen counters and sink units. They are highly space efficient, hard-working machines that deliver great wash results.

At Classeq, our machines are available with 400 x 400mm and 500 x 500mm rack sizes with a potential maximum ability to wash up to 30 racks an hour.

Our D500DUO undercounter machine is one of our most popular models. It's easy to operate with a 500 x 500mm basket that holds 18 full-sized plates and features three wash cycles capable of cleaning up to 540 plates per hour. It's a great machine that will deliver great results for many kitchens.

To find out more about undercounter dishwashers, click here.

Higher volumes? Maybe a pass-through dishwasher is what you need?

For establishments with large numbers of footfall and fast service, a pass-through dishwasher is an effective solution.

These dishwashers are sometimes called 'hood type' and are a powerful solution if you are washing higher volumes or crockery or looking for a more integral wash system that delivers results fast.

Pass through machines use tabling and pre-rinse sinks to deliver an efficient wash process. Dirty dishes go in one side, pass through the machine and come out on the cleans side where they can air dry. Everything is at counter height which means less bending down for your team, especially during a busy service.

At Classeq, our pass-through dishwashers are available in three classifications – everyday use, intermediate use and intensive use. Each use 500 x 500mm racks and are capable of washing up to 720 plates per hour.

There's no doubt that opting for a pass through dishwasher is a different type of decision, it won't fit under existing counters and will have to be designed into your kitchen but it may provide that added level of efficiency to keep your kitchen running at full speed.

Space and height …

Pass-through dishwashers need to be installed in a straight line – or in a corner – and the space required is usually between two and three metres. It's important to also check for any height restrictions as there will need to be room for the hood, which when open is 1955mm-2010mm.

To find out more about pass through dishwashers, click here.


Deciding what's right for you…

If you decide a pass-through dishwasher is the right option for you, we would recommend you discuss your requirements in detail with our team or your regular catering equipment supplier. A site survey from one of our warewashing experts would ensure you have all of the space needed for pass-through dishwasher along with the best layout before making your final decision.

Alternatively, if you are leaning towards an undercounter dishwasher, our team would also be very happy to talk through your requirements to help you make the right decision for your kitchen's needs.

Speak to one of our friendly team …

If you would like any further help or advice on buying a new dishwasher, why not have a chat with a member of our friendly team. You can call the team on 01889 272338 or complete a simple contact us form here (https://www.classeq.co.uk/cont...).