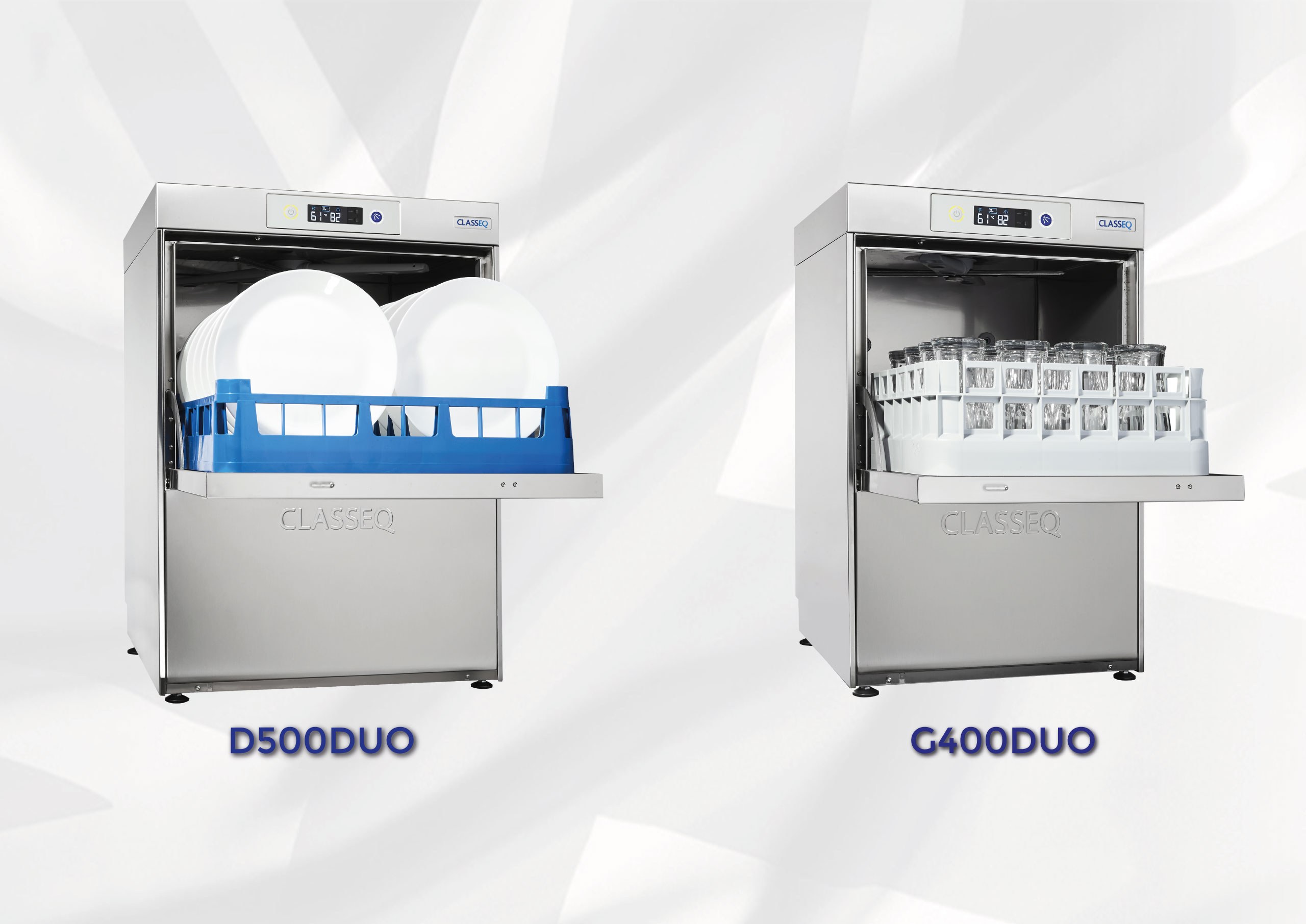 Spotlight on the D500DUO & G400DUO
Every warewashing manufacturer will have lots of models to choose from, with so much choice it's sometimes difficult to know where to start.

Each model in the range is there as we know it meets a need, no two operators are the same so choice is important. Within any range, some models will be more popular than others, those core machines that get the job done for lots of different customers.

This article spotlights two of our most popular machines that are keeping plates and glasses clean across the UK and beyond, the D500 DUO dishwasher and the G400 DUO glasswasher.

Understanding the benefits and specifications of these two machines is a great way to start your selection process for a new machine. From here you will have the basic understanding to navigate around the range, if you're washing in high volumes you may want to look at a pass through or if space is an issue, you might consider a smaller machine. We know budget will always be a factor and have a range of units at different price points.

D500 DUO

Our leading undercounter dishwasher the D500 DUO has the power and performance to meet the needs of many busy kitchens.
Quick Stats

500mm x 500mm basket
18 full sized plates per basket
540 plates per hour*
Built in drain pump, rinse booster pump and chemical dispenser
Optional Water Softener

Offering three different wash cycles – standard (2 minutes), heavy (3 minutes) and intense (5 minutes) the D500 DUO delivers sparkling clean results even with the most challenging of menus.

Each 500 x 500mm basket can hold 18 full sized plates capable of washing up to 540 plates per hour*.

Simple to use and robust in its construction, the D500 DUO features intuitive colour coded lighting and an LCD display making the machine really easy to use. Once switched on you can start a wash with just one button push and monitor wash tank and rinse boiler temperatures via the display.

The machine features a built-in drain pump, rinse booster pump and chemical dispenser immediately addressing any on site challenges around space, water pressure and drain height.

There's also an option to add an integral water softener, an essential addition if you're in a hard water area.

All DUO models have Type AB WRAS certification ensuring compliance with water authority regulations and double skinned sides and door to allow for quieter operation and reduced heat loss.

G400 DUO

A popular choice behind the bar our G400 DUO fits into small spaces while still offering great capacities and wash performance.

Quick Stats
400mm x 400mm basket
16 pint sized glasses per basket
640 glasses per hour*
Built in drain pump, rinse booster pump and chemical dispenser
Optional integral water softener
The G400 DUO boasts a 400 x 400mm basket, holding 16 pint glasses with external dimensions of just 470mm wide, 517 mm deep and 790mm high.

Offering two wash cycles – standard (2 minutes) and light (1.5 minutes), the machine can wash up to 640 glasses per hour.

By adding in the optional integral water softener (Model Code: G400DUOWS) you ensure both your machine and glassware is protected from the negative effects of hard water, no cloudy film on your glasses and no limescale damage to your machine.

Like its dishwasher cousin, the G400 DUO is simple to use with a strong set of standard features which will overcome many on-site challenges regarding drainage and water pressure. It's also fully WRAS compliant – Type AB.

All our machines are made in Britain allowing for shorter delivery times, strong availability of spare parts and access to the knowledge and expertise of our design and production teams.

For more information on each of these machines visit their product pages and/or download the product specification sheets:

D500 DUO – Product Page
D500 DUO – Specification Sheet
G400 DUO – Product page
G400 DUO – Specification Sheet

We hope gaining a greater understanding of these two machines will help you better navigate the range and determine which key features are a must to meet your requirements. We're always here to help – we can talk through your requirements over the phone, visit you and carry out a detailed site survey or put you in contact with your local distributor.

For further support selecting the right machine simply complete the how to buy form and we'll be in touch.

* Theoretical maximum