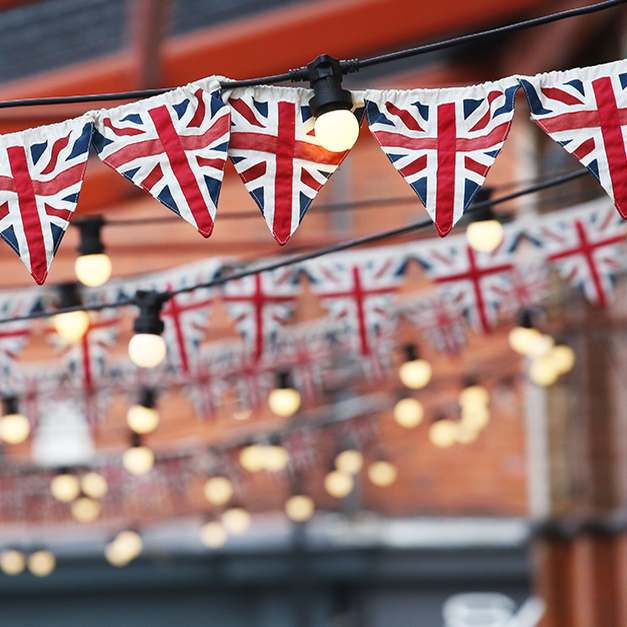 Could the Coronation be a welcome boost for the hospitality sector?
The seasonal peaks and troughs we experience year on year are, to an extent, predictable.
We know to expect heavier footfall around Christmas and Easter, and we know the summer holidays bring larger parties including young children and families. We can also be pretty certain that the wedding season will see its annual surge between May - October.

But with the last Coronation happening 70 years ago, (when most of us weren't even a twinkle in our mother's eyes), it's difficult to predict how this weekend will go.
An additional Bank Holiday in the calendar, sandwiched between two May bank holidays, Bloomsberg has written that it could be set to drag down what otherwise may be gathering momentum in the UK economy. From an economical perspective, commentary around the event speaks about the surprisingly small impact that Royal events have on the economy today, compared with earlier years.
But, as proud British manufacturers, we're more optimistic and are keen to understand, what does all this mean for the hospitality sector?

A surge in tourism and consumer spending

There is good news.
Pubs and hospitality venues around the UK should expect a welcome boost to our industry as the Coronation celebrations are expected to bring visitors and tourists in their thousands. After grappling with rising costs, inflation and a myriad of other challenges, this is a welcome injection of optimism. This tourism boost is expected to increase consumer spending - with more eating and drinking out - helping struggling hospitality establishments gain a much-needed boost in revenue.
According to UK Hospitality, the King's Coronation Bank Holiday Weekend alone is set to bring in an individual boost of £350 million into the sector. Eating and drinking out, street parties and 'staycations' in major cities are closely associated with Royal events. So we need to be on our toes to show how we, as an industry, can respond as best as we can.
Making memories
For most of us, this is the first Coronation we've lived through. So whether you are working or not, it's a great opportunity to create some long-lasting memories. Encourage your staff to get involved with the celebrations (as much as permits them to still carry out their tasks). Happy, vibrant staff lead to happy and vibrant customers. This is a great morale booster and helps to remove any disappointment about having to work over the Bank Holiday. That extra involvement with the patrons could also result in extra tipping – and that's a good thing, right!
How can we prepare?
The government is offering a helping hand by letting venues stay open a little later over the weekend. Under Section 172 of the Licensing Act 2003, an order has been made to relax licensing hours for licensed premises due to an occasion of "exceptional international, national or local significance".
Rather than giving customers a reason to continue their celebrations undercover at home, it is hoped this will encourage longer stays in venues, and as a result, increased consumer spending.
Venues can then make other preparations to get the punters through the door and in a celebratory mood, come rain or sunshine (never let the great British weather get you down).
Some areas for consideration are:
Undercover areas in gardens
Food and beverage discounts and offers
Additional staff and resources
Serviced, sterile, and well-functioning equipment
These are just a few suggestions to help keep things running smoothly over the weekend, while encouraging consumers to stay in your premises for longer and visit in larger groups.
Go celebrate.
While the wider narrative seems to be a little uncertain around the Coronation's impact, we remain hopeful and positive about this additional Bank Holiday. The Royal event is sure to bring an injection of patrons, tourists and visitors into hospitality venues across the UK.
Hospitality leaders and businesses know the strengths of their teams and their venues, and they know how to leverage these through unpredictable times. For optimal impact and success, preparing for all possible eventualities, be it rain or shine, busy or quiet periods, is the best way to stay ahead of competitors and enjoy consistent revenue throughout the seasonal waves.
Despite the plethora of challenges we find ourselves tackling, it must be said that the hospitality industry is rich in positivity as we move into the future. Withstanding the last few years has been enough to prove its resilience, and the relationship with the general public. Working in this sector is tough, but extremely rewarding.
At Classeq, we are passionate about the growth and success of the hospitality sector. That's why we are committed to providing you with content that explores every juncture of the hospitality journey from the distribution of catering equipment right through to the patron's plate.
If there is a topic you'd like us to explore further, do let us know. Otherwise, view our full content library here, or speak to a member of the team today . Whether it's a new machine you need, or technical support, our team is ready to assist.
External sources:

1. Bloomberg
2. Hotel News Resource
3. Proactive Investors
4. Licensing Act 2003