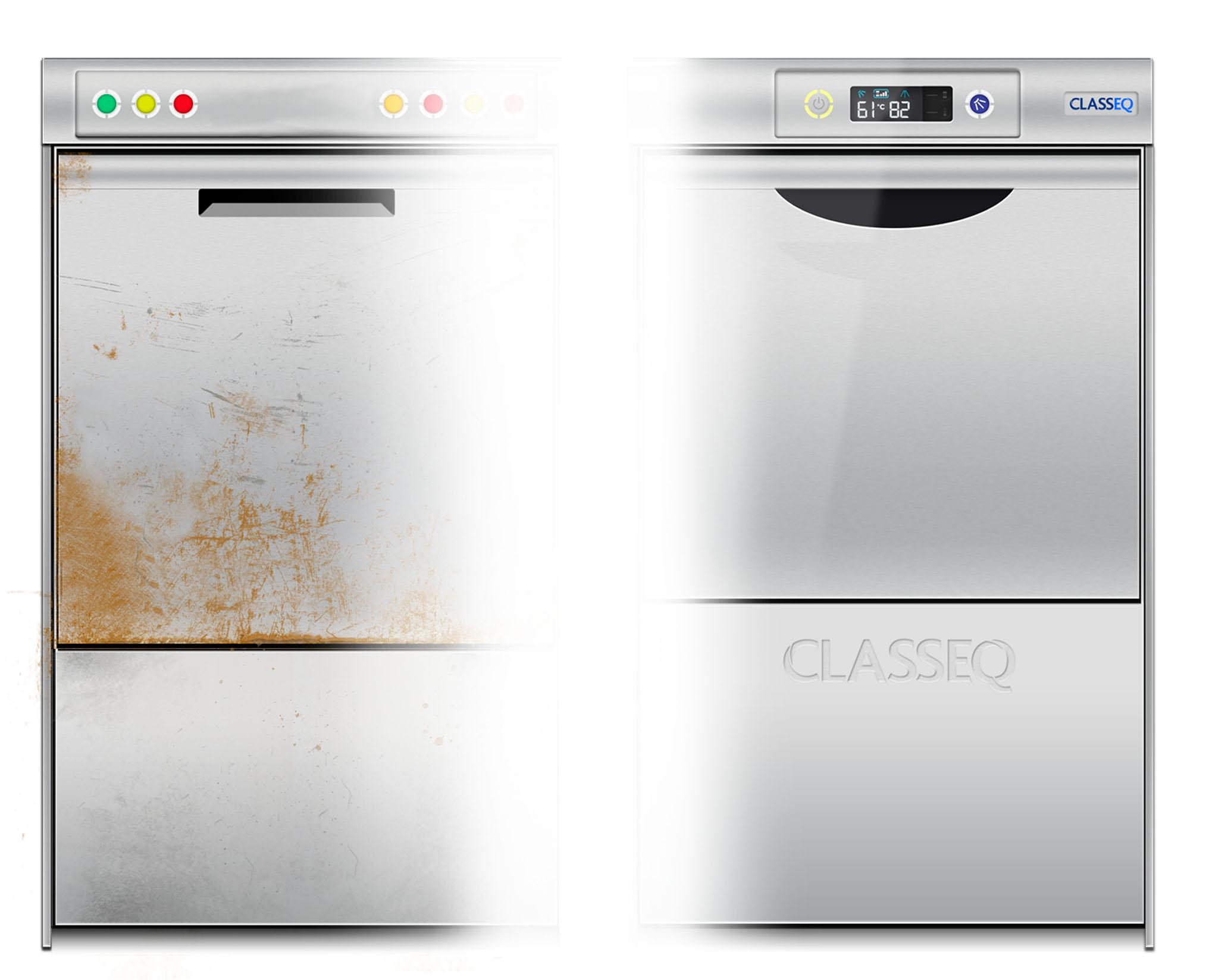 Learn from your old machine to help you select your new Classeq dishwasher

A quick review of your current dishwasher might help you make the right choice?

That hard-working silver box in the corner has served you well but now it's time for a new one, maybe even an upgrade! Taking just a few minutes to look at your old dishwasher and consider its pros and cons is a great way to help you select your next Classeq dishwasher.

These helpful hints and tips are also useful when buying a new dishwasher as part of a kitchen re-design, opening a new venue or setting up a new business as it gives advice on what you need to look out for.

Let's get started – firstly, a few questions to ask yourself

– Has your business grown or changed since you purchased your last dishwasher?

– Are you serving more covers or selling more drinks?

– Did your dishwasher struggle to get you through a busy service without any stress or delays?

If you are answering yes to any of these questions, it may be time to consider an upgrade and here are some areas to consider before doing so.

Capacity and performance

In order to decide which size and type of dishwasher is right for your venue it's worth understanding what needs to be washed at peak times on the busiest day of the week.

For example, here at Classeq, our standard dishwashers, D400 and D500, are capable of cleaning up to 270 plates per hour and 540 plates per hour respectively whereas our Pass Through Dishwashers are capable of cleaning up to 720 plates per hour.

The size of the basket is another important consideration. Make sure it is big enough. Our D400 dishwasher has a 400 x 400mm basket that holds 9 full-sized plates whereas our D500 has a 500 x 500mm basket that holds 18 full-sized plates. Pass Through Dishwasher racks are the same size as the D500.

Power rating
A little known fact is that electrical power influences the output. How your dishwasher is powered has a direct relationship to how it performs. Put simply, the higher the power rating, the faster the water heats and the more cycles the machine can do per service. If your current dishwasher isn't performing as well as you would like to, it may be time to consider using a different power option.

Knowing how your current dishwasher is powered will help you choose a new machine with a higher power rating. Most models come with different power options from 13amp single phase to 22amp three phase.

If you're replacing a Classeq dishwasher there will be a data plate on one side of the machine confirming its power, other manufacturers use similar stickers but they may be located somewhere different, have a good look around.

If you're unable to find out from the dishwasher itself, it may be worth looking at your fuse box for further information. There's no need to touch anything and if you're unsure about anything seek advice from a qualified electrician. Our sales team or your reseller will be able to help you further.

Space, size and access …

– Would you like your new dishwasher to fit into the same gap as the old one?

– Would you like to re-use the racks?

Commercial dishwashers use standard size racks that are transferable across machines, so if you do have racks that you're keen to re-use, it makes sense to choose a dishwasher that uses the same size racks.

Be aware that even though the rack sizes may be the same, the external dimensions of the dishwasher may be different, so it's important to measure the space to make sure the new dishwasher will fit.

Don't forget about access too. It may sound obvious but make sure the new dishwasher can fit through the door before it can be installed in your kitchen or bar.

If you have the space, it may be worth considering upgrading to a Pass Through Dishwasher rather than a standard under counter dishwasher. Pass Through Dishwashers work in conjunction with tabling to manage the flow of items and ensure maximum efficiency, these dishwashers can be designed to work inline or as a corner operation.

Click here to find out more about Pass Through Dishwashers.

Hard water and limescale

– Were the cleaning results of your dishwasher not as good as you wanted?

– Were the glasses cloudy rather than sparkly clean?

The majority of the UK is a hard water area which can lead to a build-up of limescale in the machine and its heating elements. This can shorten the dishwasher's life, affect its performance and impact on cleaning results.

Having a water softener will reduce the hardness of the water before it enters the machine, improving both the cleaning results and increasing the lifespan of the dishwasher. Water softeners are easy to install, they are available integral on some models or external on others. We can help recommend the best solution for you.

Watch a short video about water softeners to help you decide if this is right for you.

Drainage outlet
Where is the location of the drainage outlet on your current dishwasher?

If it's a gravity drain (floor drain) you won't need a drain pump as the waste from the machine outlet is being carried out purely via gravity. All of our standard dishwashers come with a gravity drain.

But, if it's a stand pipe your new dishwasher will have to have a drain pump as the waste water from the dishwasher has to travel higher than the machine's waste outlet.

Click here to see a helpful video.

Water supply and water pressure

Water supply and water pressure are key factors when replacing your dishwasher. If your current dishwasher doesn't have a rinse booster pump and the water pressure is less than 2 bar, the rinse and results won't be very good. If this is the case, you will need a rinse booster pump to ensure the best results.

If the machine is installed on a cold mains water supply you will need a Type A Air Gap in order to meet with the water board regulations.

Warranty, repairs and servicing
Your dishwasher is a hard-working machine essential to keeping your kitchen or bar running, it's imperative you consider the warranty and repairs and servicing package it comes with when you buy a new dishwasher. We have a choice of tailored service and maintenance packages to suit every budget so you can enjoy peace of mind. Click here to find out more.

Very much like a car, your dishwasher will need servicing and from time to time you may need to replace components just like your car needs new tyres or brake pads. As a British manufacturer our spare parts are always readily available and our network of fully trained service engineers are available nationwide.

Preventative maintenance is always the best option, avoiding breakdowns is cheaper than fixing them so it's important to look after your dishwasher.

One final point – always make sure you have your new dishwasher installed by a fully qualified engineer who will install it correctly, therefore ensuring the best possible performance of the machine.

Speak to one of our teamIf you would like any further help or advice on buying a new dishwasher, why not have a chat with a member of our team. You can call the team on 01889 272338 or complete a simple contact us form here.